In Tune With Nature and All Things Around It.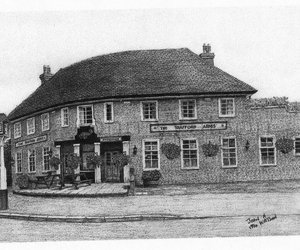 A self taught artist, John was born in Norwich, Norfolk, UK on September 4th 1939. He left school at the age 15 to start work as apprentice printer. John joined the Royal Navy in 1957, age 18, serving 9 years, 3 of those in Submarines, seeing most of the world whilst in there.
He married his wife Carol in 1963, after being pen friends for 14 months. They had 4 children, 3 sons, Dale, Sean, Adrian and a daughter Lisa. After he came out of the Navy he worked in a bakery as despatch foreman for 13 years, leaving to work in insurance for the next 7 years. He has always been interested in art work for a very early age, but had no formal training.
He really got into his art after losing his youngest son Adrian in a car accident in 1982; it helped him through the worst time of his life. He works in oils, pastel and pencil and tries anything from buildings, landscapes, portraits of pets and people.
He sent a portrait of the Queen mother to her on her 100th birthday also a pencil drawing of Diana to Earl Spencer, which he received a hand written letter from the Earl.